One thing many sports have in common is the need for a manager. Managers do anything from helping with warm-ups to cheering on their teammates from the sidelines, but what is it like being a manager? 
Senior Rebekka Dang managed the varsity volleyball team during the 2023 season. This was her first year managing volleyball instead of playing, because she wanted to prioritize Health Academy. Despite no longer playing on the team, Dang still wanted the privilege of being a part of the varsity volleyball team.
If there's one thing Dang loved most about the team, it was her relationships with other players.
"Every single one of those girls makes me smile every single day," Dang said. "I love seeing the way that they are persistent, they are resilient to change, and no matter what is going on with them outside of the gym, they leave it at the door, and they just all love each other so much on this team. And it's just such a blessing to be around." 
Story continues below advertisement
Sophomore Andy Smith managed the freshman football team during the 2022 and 2023 seasons. Smith started managing because his brother played football. 
The main things Smith enjoyed while managing football were recording games and doing magic tricks on the bus ride home. He remembered one trip in particular: "I think the Omaha Westview game for the B team … some of those reactions were the best reactions I had ever had," he said. "It's just some of those experiences that really get me going, really make me want to go."
Sophomore Taylor Parrack, who also began managing the varsity volleyball team during the 2023 season, joined the management team because she felt she could not keep up with the other talented players on the volleyball team. She wanted to be involved with the sport, so she decided to do the next best option.
Parrack saw the players and coaches as more than just some people on a team. "It was my second family. We won together, laughed together, ate together, and lost together," Parrack recalled.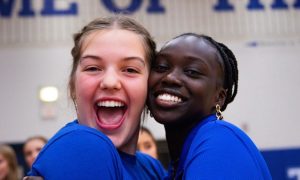 Both Dang and Parrack agreed the girls on the team treated one another lovingly, as girls accepted each other's faults and helped each other overcome problems. 
Dang and Parrack both described how they felt accepted into the team, despite being managers and not players. "They don't shun us to a corner just because we're managers and we don't play and we don't have a jersey, but instead they embrace us in their circle," Dang said.
Dang believed the team chemistry during the season was great and only kept getting better. The team stuck together through wins and losses and never placed the blame on one another. When a mistake was made during a game, the team accepted responsibility together instead of pinning it on one single player. 
The three managers noted how they noticed things on the bench that others might not notice just from watching.
Parrack said she noticed the pressure the varsity volleyball girls were under and how well they handled it, and Dang noticed differences in the players' performances.
"I notice how much they change in the way that they talk to each other, and the way that they carry themselves with confidence and love, and the way that they are just in their life – I love that," Dang said. "And then I also noticed that I can tell when someone's having a rough game, and when someone's not having a rough game. And it might look the same from the student section, but from the bench, it's an entire different story."
Smith also noticed how close the freshman football players were and how they were always cheering for one another.
"I feel like [people in the crowd] really don't notice how encouraging the team can be to each other, because up in the stands, you don't hear any of the 'Good job,' or anything like that," Smith said.
On Oct. 16, during a varsity girls volleyball game against Bellevue East, both Dang and Parrack were miked up on the sideline. They both said they enjoyed the experience.
Click here to see Dang and Parrack "mic'd up."
Dang had fun during the mike up,  but she was also nervous. "I was nervous that I would break the mike from cheering so loud," Dang said.
Parrack also recalled how she felt during the mike up.
"I was so excited for people to see how excited we get," Parrack said.
Although the three managers experienced ups and downs throughout the season, they all shared some great experiences with their team.