According to senior Lluch Cejudo, one of four exchange students attending Papio South this year, the school seems like a movie, specifically  "High School Musical. Cejudo is from Mallorca, Spain, and her school life there is very different compared with here, which she described as "super exciting."
"It's like being inside a movie – the football games and the band and the cheerleaders," Cejudo said.
"Comparing to my school in Spain, it's much different. How you do celebration, Homecoming that's very new for me," she said. 
Academics here also have been a big change from Spain. "Our schedule is like 10 subjects; here you have seven or less," Cejudo said.  "You have to walk to class; in Spain, the teachers come to you." 
Story continues below advertisement
Not only are the class schedules different, but so are the lunches.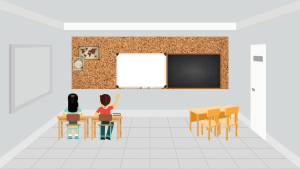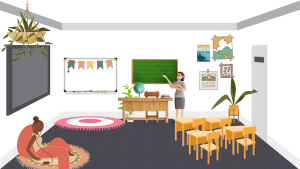 According to Cejudo, "The lunchtime, you have four different lunch times; and in Spain, you leave at 2 [p.m.] and you have lunch at your home." 
Cejudo isn't the only exchange student  who says the school feels like a movie.
Senior Chiara Lunesu is from Milan, Italy. At school back home, she would be with the same 20 students for five straight years. One thing she likes about Papio South is that she has a greater chance of meeting more people and making more friends because of switching classes each period and having different students in every class. There are also more non-academic opportunities to socialize at school. 
"In Italy for example, we leave at 1 [p.m.], so we don't eat lunch there – and all the activities like Friday football games and the players wearing their jerseys and the cheerleaders," Lunesu said.
Still, there are downsides to the constant change of faces. 
"Making friends in a big school as Papio South is definitely not an easy challenge to face," Lunesu said. "I have basically different classmates in every class, which on the one hand it's cool because it lets you meet many new different people, but on the other hand it makes it harder to create actual friendships in such a short period of time each day even throughout the year."
Senior Chiara Ameraldi, another exhange student from Italy, said the adjustment to new academic and social expectations wasn't easy. 
"Here it's more difficult to make friends and getting to know people, because you change every hour," Ameraldi said.
Lunesu said she didn't expect it to be easy. "I knew that people already had their group of friends and it would be hard to make actual friends" she said. "But it was easier than I thought. I thought it would be worse."
Cejudo said it took some adjusting: "At the beginning, it is hard because everyone speaks very fast, but little by little you will understand everything people say." 
Being away from their  home country adds to the challenges, even with regular contact back home through  texting and FaceTime. 
Lunesu said involvement at school was helping her cope. 
"I wasn't homesick much till two days ago," Lunesu said recently, "It helps being able to just Facetime with my friends and my family, just keeping in touch with them helped me – and also doing activities here just not to think about home." 
Lunesu has gotten involved in DECA  and has started practicing basketball with the girls to hopefully make the team when the season starts.
"I'm currently practicing twice a week with the basketball team to be ready for tryouts, and I'll start doing workouts with the track team after school," Lunesu said.
Any language barrier hasn't caused much trouble for the students since they have been here, but some classes can get difficult. For the most part, all exchange students struggle with U.S. history because it is not usually taught in their home countries. 
"With history I'm very stressed because there's a lot of hard words I don't understand," Cejudo said. "Or I see all the people in my class, they respond with very good answers, and I can't do it – not because I don't know the answer; it's because I don't know how to explain myself, and it is very frustrating." 
Senior Klara Finke, the exchange student from Germany, appreciates that she doesn't have to write an essay in every class and she can choose what classes she takes. 
Finke said she had  been learning the English language for seven years, so it's not too new for her, but she still struggles with certain terms or words. 
"I'm not a native speaker," Finke said, "sometimes it's a little hard." 
Lunesu said she was prepared for the moments when language was a barrier. "It didn't happen yet that I didn't recognize that many words in class," Lunesu said, "but when I don't know what a term means, I just look it up on translator or ask the teacher." 
Cejudo said she had her own approach to the same problem: "If I don't understand a word, I ask a classmate – or sometimes I wait to see if, according to the context in which you say it, I understand what it is."
Based on her experience so far, Lunesu offered some advice for future exchange students: 
"Just be the most involved as possible, in general," Lunesu said, "but at school in particular, because it's where you have the biggest possibility to meet people you'll create strong bonds with. Literally, join anything that sounds fun or interesting to you, the more the better."