"Rumors" is a Neil Simon play about a unique group of people covering up and coping with their friend's mysterious gunshot wound at a late-night dinner party celebrating that friend's 10th anniversary with his apparently absent wife.
From the beginning, an intense setting is portrayed: from panic to anger and even fear at the sound of a telephone, the cast clearly prepared to show the stage what they've got. Each performer portrayed their character near flawlessly, providing adrenaline and fear inside of me from the safety of my seat in the audience.  
Yet the moments of comedy really brought out the laughs. Countless times I'd be thinking the jig is up, or how their lying is crumbling in front of them, but they were always saved by what seemed to be a coincidence. 
During the full dress rehearsal I watched, there were a couple of mishaps, such as a plate accidentally being shattered, but senior Joey Westerdale, who plays Ken Gorman, was able to play it off as if part of the show, leaving me questioning if it was on purpose or not! His improv was great, and the chaos of the setting allowed a mishap like that to happen. And in his next line he was yelling how everything was falling apart – proof being he even broke a plate. 
Story continues below advertisement
Some of the funniest moments came from senior Ava Albracht, who played the character Cookie Cusack, a TV chef who arrives as a guest but is roped into preparing dinner at this off-the-rails dinner party. Albracht really let her character flourish, from the voice to the clothes and every interaction with others, she always made the audience laugh.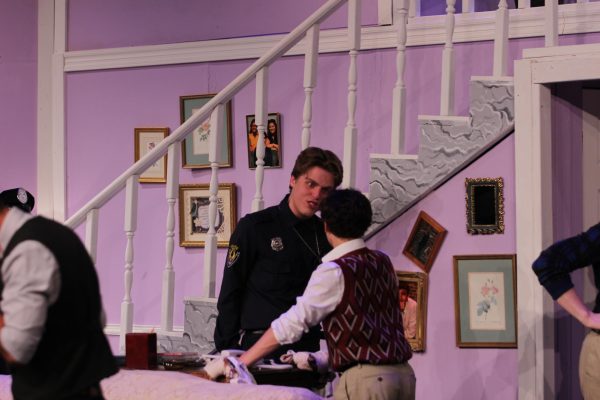 These two weren't the only ones in the cast who did well. Everyone was able to portray a different personality, not just a character, which can be tough.
Cassie, played by junior Sophie Anderson, is a good example of staying in character. She was consistently snarky or sassy with her remarks and facial expressions throughout the entire play.
The officers were also very entertaining. They weren't there to play, or at least senior Creighton Thornton, who portrayed Officer Welch, wasn't. The pressure felt from him, even from a distance, was hilarious. He chased, yelled, accused and pressured everyone. Even though he wasn't there the entire time, his impact was large.
Beyond that, the most impressive thing was the cast's ability to find control in utter chaos. At one point everyone is screaming and running around like headless chickens, and at first the audience has no clue what is going on. But if one can shift their focus onto different sections of characters, they will see how, even though performers are talking over each other, they still are in character. They're not speaking gibberish; they're speaking actual lines: Having actual conversations whilst moving, yelling and arguing. 
Toward the end of the play, when everything seems like it'll go wrong, Leonard Ganz, played by junior Tyson Johnson, comes to save everyone's day. Miraculously he weaves a web of lies so believable and so entertaining that he had me fooled. His acting was superb – mimicking, running around and being distraught. This was a performance I can't see many others pulling off.
All in all, the cast did what they do best and they acted amazingly. There will always be room for improvement, but from a perspective of someone who hasn't seen this before, I am more than happy to say people should go and see this play.
Tickets are $5 for students, $10 for adults, with two more performances scheduled in Titan Theater: 
Evening: Friday, Sept. 22 at 7 p.m.
Matinee: Sunday, Sept. 24 at 2 p.m.