The PLV Media stream has been running for 12 years with play-by-play and color commentary, cameras tracking the events of the game with management by producers and engineers. These roles, essentials in most professional sports broadcasts, are all filled by students.
PLV Media is a key part of the Titan and Monarch football experience, broadcasting home games live for those who can't be there to support in person. Both the Titan and Monarch football seasons ended Friday, Oct. 27, in playoff losses to Elkhorn South (42-8) and Bellevue West (48-34) respectively. 
Sophomore Maddox Allen from Papillion-La Vista South serves as the engineer for the stream, leading and making sure that the cameras are in the correct positions and commentators are staying on time with the commentary. Allen also manages the pregame and halftime show, which were added to PLV Media football streams for the first time this year.
"So we put [commentators] on cams. They go over their notes, and we try to make it loose and filling like you would normally see… It's been working well so far. Our plan is to keep [the halftime show] going for a while," Allen said.
Story continues below advertisement
Because the pregame and halftime shows are spent discussing the events of the game and what viewers should be watching for, sophomore Brody Carter from Papillion-La Vista South and senior Armando Alferez from PLHS, the commentators, have to study up on game plans and talk to coaches in preparation for each game.
"You email coaches and build relationships with coaches. They know you, and your school knows you from commentating these games," Alferez said.
For Carter, connecting with coaches and communicating the game to viewers through commentary is his way of connecting to his favorite sport.
"I love the sport of football. I had a birth defect called a Chiari malformation… I had the heartbreaking news when I was in kindergarten that I was not able to play football. And I was like, 'When I get older, if I can't play it, why not announce it?' I have a love for the sport, just because I can express my feelings and I can know what players feel like, too, on the field," Carter said.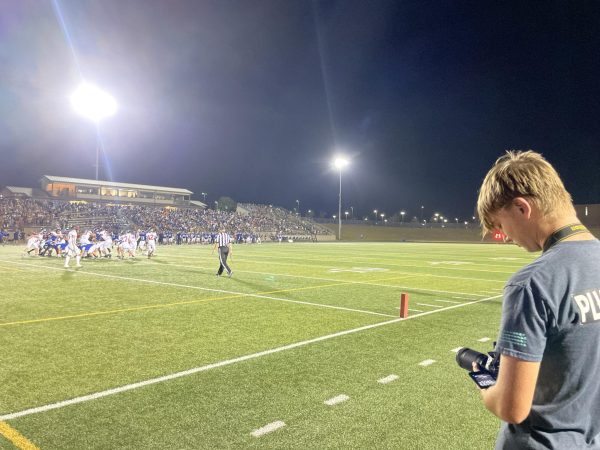 In addition to providing a live broadcast, PLV Media sends cameras down to the field to record content to be used in video media for the Titan and Monarch football teams. PLV Media students filling this role work in pairs, made up of a footage producer and a spotter. Both from PLHS, sophomore Mackenzie Frederick, a footage producer, and junior Christian Mundt, a spotter, are one of these duos.
"My job is to take aesthetically pleasing shots of the team and try to tell the story of the game," Frederick said.
Mundt added, "I keep Mackenzie from dying on the field, I am her spotter. We're the best duo out here. I watch to see if any plays, or refs, or players, or coaches, or whatnot are running our way and make sure Mackenzie gets out of the way of danger, because her face is usually down, watching the camera."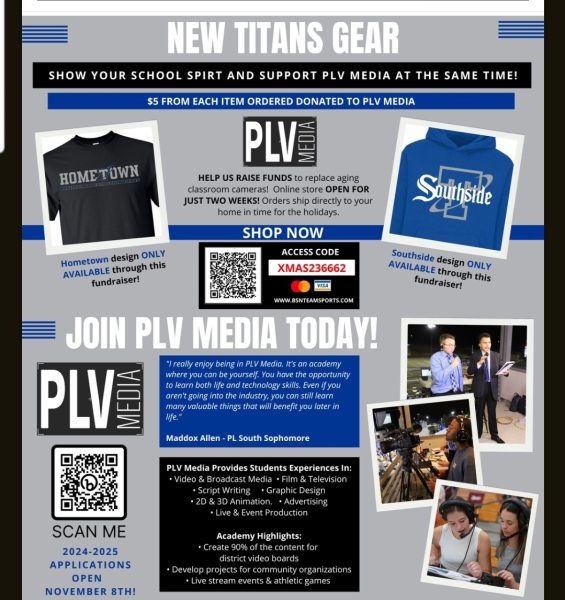 Overseeing it all while not getting too hands on is the PLV Media Academy teacher, Becky Hoch.
"My role at the stream is to get them [students] here and to enable and empower them, and to be aware of what's going on so I can catch potentially critical issues… I often say that one of the hardest things to do is to  lead someone who is your equal everywhere else. As far as the ones you see on cameras, the first-year students, [training] happens in class, where they're learning the basics of camera work… Very often, kids' first games are the very first four or five football games, and it's the first time some of them have actually watched a football game. It's remarkable," Hoch said. 
PLV Media will be streaming basketball and wrestling for both boys and girls in the winter.